Therapeutic communities (TC) are types of residential treatment programs that provide long-term solutions for people in recovery from different types of substance use disorders and other forms of mental illness.
The traditional approach was based on the residential treatment model, with both clients in the program and treatment providers living in the same environment. Some of the more modern forms of therapeutic communities have taken on a day-program format, where people interact with the treatment environment during the day and then return to their residences at night.

How Do Therapeutic Communities Differ From Traditional Residential Program?
Traditional residential treatment programs will typically last for 30 to 90 days, whereas therapeutic communities are extended periods of treatment that are typically 12 to 18 mths or longer.
Traditionally, therapeutic communities offer structured living environments for their clients. If you are in a TC, you will live in an environment with other clients in the program. More than half of the staff working there are reported to be in recovery themselves or have certification in addiction counseling.

The Treatment Focus
Therapeutic communities offer a holistic approach to recovery that focuses on addressing and altering issues with your overall lifestyle (sometimes referred to as a
recovery orientation
). Other residential treatment programs tend to focus on abstinence-based recovery and acute issues with substance use disorders, and less so on other personal issues.
The TC program looks at recovery as a gradual process of change and assumes that having a substance use disorder means you have a chronic relapsing condition that needs long-term treatment. Relapses and lapses are considered part of the recovery process.
You are encouraged to learn from your mistakes. Although lapses and relapses are not supported by treatment providers, they are considered part of the process of recovery and not an indication of failure.

Equality and Personal Responsibility
TC programs are designed to give you higher levels of responsibility for your recovery and for contributing to the recovery of others as you continue through your treatment.
They have the goal of addressing your issues with substance abuse, helping you achieve and maintain abstinence, and bettering yourself at work, school, and in other areas of your life. You will be expected to participate in group activities that emphasize learning and cooperation with others to achieve social goals.
The TC approach conceptualizes that having a substance use disorder affects all areas of your life. Substance abuse breaks down your family ties, community ties, social skills, and gradually wears down your ability to function at work, school, and in your personal relationships. A therapeutic community attempts to have you reestablish and relearn skills and abilities that address all areas of your life.
In some cases, people may have been so devastated by the consequences of their substance abuse that they need to habituate or even relearn skills and values associated with healthy living. This requires a highly structured daily routine that has clearly stated goals.

The Community As Method
The community as a method
component of TC programs allows people to live together in a residential setting that is drug-free. This approach can even be used in shelters or prisons where the program is implemented.
The approach is designed to get you involved and interacting with others with similar needs and goals as a mechanism to help you change your own identity and lifestyle. Mutual help through positive social interaction, bonding with others, and support from others is a primary mechanism of change.
As mentioned above, traditional TC programs involved communities where both clients and treatment providers lived together, but some of the more modern manifestations of TCs utilize these principles in an intensive outpatient treatment environment.
Pull-Ups
Simply watching and attempting to model someone else may not help you change your behavior. The notion of "pull-ups," or corrective reminders between peers, is designed to add to the social learning approach used in a TC.
Pull-ups are very specific guidelines that come from other community members and therapists to help you change yourself in a more focused and proactive manner. Pull-ups are also consistent with the cognitive-behavioral approach used by many therapists.
Cognitive Behavioral Therapy And Motivational Interviewing
TC therapists will typically adopt a cognitive-behavioral approach. This means they will focus on how your thinking and beliefs relate to your actions. By identifying beliefs, expectations, and other thoughts that are flawed and contribute to dysfunctional behavior, your therapist can help you restructure beliefs and thoughts to change your behavior.
The motivational interviewing approach that is used in many TC programs assumes that everyone is at a different stage in their willingness and readiness for change. The TC approach attempts to identify where you are in relation to your willingness, understanding, and readiness for change and then work with you from that point.

Other Types of Activities
The TC approach utilizes many different activities and interventions to help you recover from your substance use disorder as well as to address other areas of your life. These include:
Individual and group therapy sessions
Group discussions with others in the program
Seminars and educational opportunities
Community meetings
Specific types of chores and skill-building activities
A chance to get involved in the procedural and treatment aspects of the program itself
Many people who are involved in therapeutic communities later go on to continue in the programs as mentors and even therapists if they are qualified.
Separation And Reentry
The goal of a TC program is to eventually get you to be able to leave the treatment community and re-enter the larger community drug-free.
Therapeutic communities will usually offer aftercare, such as counseling and other programs, that you can continue to remain focused on your recovery. Traditionally, people could stay in a TC for as long as they felt they needed to, often between 18 and 24 months. Today, insurance limitations may reduce the length of stay in these programs to less than 12 months.
It is best for you to remain in some type of ongoing program after your insurance coverage expires. Research indicates that the longer a person participates in treatment, the better their long-term outcome will be.

Research
Research studies
have found that TC programs offer a substantial improvement in recovery from substance use disorders as well as mental health disorders. They even demonstrate a reduction in criminal behavior in participants in prisons or those in treatment because of the court system.
One of the biggest challenges to any substance use disorder treatment program is keeping someone in the program, and TC programs are no different. Dropout rates in treatment programs for substance use disorders are highest in the early stages of the program.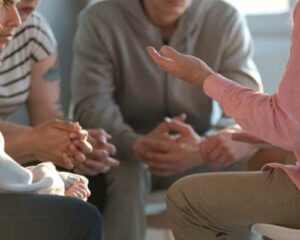 When TC programs require that individuals live and be treated in the same community with treatment providers and other clients, it may reduce the tendency for someone to drop out of the program early.

What Might Be Best For A TC?
There are a variety of treatment approaches when it comes to addressing addiction and co-occurring disorders. Every person is different and entering treatment with different needs and concerns.
When you first enter a treatment program, you'll go through an assessment process that's designed to help determine the best possible treatment plan for your needs. There is no standardized, one-size-fits-all treatment plan, and for your plan to be effective, it needs to be personalized.
Standard residential treatment and therapeutic communities are equivalent in terms of their overall success rates.  You might be better suited for a TC if:
You have a history of incarceration due to substance abuse-related issues.
You are currently facing incarceration due to substance abuse-related issues.
You have another severe form of mental illness along with your substance use disorder.
You have little or no social support or family support.
You believe that you need help with learning how to integrate better into society.
If you believe that you could benefit from a therapeutic community approach, speak to a therapist or addiction clinician to learn more about your options.

Seeking Your Treatment Options
Whether or not you go through treatment in a therapeutic community, it's important to seek help with a substance use disorder as soon as possible.
Addiction is a progressive disease that can start to affect multiple areas of your life, including your physical and psychological health, your relationships with your family and friends, and your job and financial stability.  Seeking treatment early can allow you to avoid an escalation of the disease before it gets out of control. Addiction can also be treated no matter how long you've been addicted or how many aspects of your life it's touched.
To start your road to recovery today, learn more about therapeutic communities and addiction treatment as a whole.