Addiction recovery cannot begin without sobriety, as being sober is a fundamental part of addiction rehabilitation. A recovery program also requires the full focus and commitment of an individual and that isn't possible if they either still have drugs and alcohol in their system or are dealing with the often debilitating symptoms of of withdrawal.
That's why detox should always be the first step of any substance abuse treatment. Many addiction treatment programs will start with medical detox anyway as part of their treatment program.
Detoxification is the process by which addictive substances and toxins are flushed out from the body to ensure sobriety and stem the psychological and physical harm caused by the chronic abuse of drugs or alcohol.
Detox and withdrawal may seem like an unpleasant process to go through, and it usually is. But that does not make it any less crucial to the recovery process. Under the supervision and care of a professional medical team at a detox center, however, detox can be a much smoother and easier to manage the process.

Why Should I Choose Medical Detox?
Many people are not aware of how dangerous the process of detox can be without the presence of a professional medical detox team and
think that they can detox from drugs or alcohol at home
without experiencing any major issues.
This is a huge mistake.
Choosing to detox at home instead of at a medical detox center is a bad idea for so many different reasons. The first and foremost is that it can be extremely unsafe. Substances like benzodiazepines and alcohol have some of the most intense and agonizing withdrawal symptoms, including seizures, heart palpitations, psychosis, and Delirium tremens, which are all potentially life-threatening. That's why, here at Delphi, we only offer medical detox and do not encourage attempting to detox at home.
And while opioid withdrawal symptoms may tend to be more comparatively mild, they are still difficult to deal with alone, especially flu-like symptoms such as nausea, vomiting, diarrhea, and exhaustion, which can lead to dangerous levels of dehydration. Mood-based symptoms such as depression, anxiety, and suicidal thoughts can also put someone in a position where they might harm themselves.
Even putting the matter of personal safety aside, there's the fact that addiction alters and rewires a person's body and mind in fundamental ways, which is why it is so difficult for someone dependent on drugs or alcohol to stop using. It is even more difficult without the aid of professionally administered detox medications or a carefully monitored tapering schedule.
Someone attempting to detox at home is highly likely to end up relapsing before completing the withdrawal process. A mid-detox relapse also increases the likelihood of an accidental overdose, which occurs when someone in the middle of withdrawal takes far more of a substance than they normally would to find relief from cravings and withdrawal symptoms.
At a medical detox center, all of these issues can either be greatly reduced in impact or avoided completely.
During a medical detox, you can go through withdrawal in a safe and controlled environment, carefully monitored by an experienced detox staff.
A medical detox team is well-versed in addiction treatment and can provide medication to ease withdrawal symptoms and ensure that you will make it through your detox without relapsing or hurting yourself.
They are trained to manage the many complications that can happen during detox and will do everything they can to keep you stable and in the least amount of discomfort possible.
There is no reason to take the unnecessary risks involved in detoxing at home. A medical detox makes the withdrawal process safer, easier to bear, and the best starting point possible for you to transition to ongoing addiction recovery treatment.
Now that you understand the importance of a medically-supervised detox, the next step is finding the right medical detox center.

How Do I Choose a Medical Detox Program?
The first thing you need to know before deciding on a medical detox center is what kind of detox program is going to best suit your needs in this first step towards recovery. While there are two main types of detox programs, inpatient and outpatient, they break down into several different subtypes, as follows:
Inpatient detox, where you will live onsite at the detox center during the course of your treatment. This is the best option for someone who will require 24/7 monitoring.
Outpatient detox, where you still live at home but receive treatment during the day, visiting the detox center for medication and regular evaluations. This is generally the best option for someone whose addiction is not as severe.
Partial hospitalization detox, where you will still be living at home but spending anywhere from four to eight hours a day onsite at the detox center for more intensive medical care.
Residential detox, which is similar to inpatient detox treatment in that you will be living at a treatment center, but instead in a more residential, long-term setting. This is the best option in terms of making the easiest transition to ongoing care, as medical detox is typically already included as part of the overall treatment program at a residential treatment center.
It is also important to know what detox services you will require because not all medical detox centers are going to offer the same services. For example, if you have a co-occurring mental disorder, you will want to look for a detox center that can provide dual diagnosis treatment that provides both physical and mental therapies during the detox process.

How Do I Know if a Detox Center is Legitimate?
Unfortunately, in recent years there has been a surge of fraudulent, illegal detox and rehab centers popping up and using the country's opioid crisis to take advantage of people seeking out treatment. Fortunately, there are several ways to check the
criteria
of a detox center and ensure that you are choosing a legitimate, licensed facility, including:
They are accredited through a national organization such as the Commission on Accreditation of Rehabilitation Facilities, the National Committee for Quality Assurance, and the Joint Commision.
They can provide evidence of their current licensing and certifications required for them to legally operate.
The doctors supervising detox are board-certified and licensed. The nurses, clinicians, and medical staff must be properly certified as well.
They use evidence-based therapies and practices supported by research and a track-record of success among their patients.
Physically visiting a detox center can also help distinguish not only legitimacy but quality as well. This allows you to get a clear and accurate idea of the facility's amenities, how it is kept, the patient to staff ratio, and more.

Does My Insurance Cover Medical Detox Services?
The cost of detox treatment is mostly going to depend on the services you receive. Inpatient programs with
medication-assisted treatment
(MAT) for things like opioid withdrawal are going to cost more than an outpatient detox.
However, for many, outpatient detox is not an effective option due to the severity of their addiction.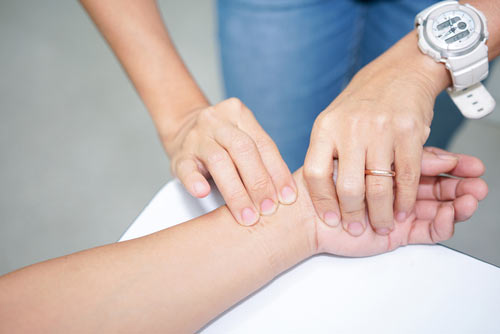 How much of your medical detox treatment will be covered by your insurance is going to vary depending on the insurance policy. It is important that you speak with your provider and understand exactly the length and level of detox treatment you will be covered for.
Even with insurance coverage though, you may have to pay for some of your treatment out of pocket.
In that case, many medical detox centers will offer payment plans that allow you to slowly pay your bill over time in manageable installments. Other detox centers operate on a sliding scale where the cost of treatment is determined by your level of income.
What Questions Should I Ask Before Deciding?
Trying to keep all this information in mind while looking for the right medical detox center can feel almost overwhelming, but it is all important and will help make sure you are connected to the best possible treatment for your unique needs.
To make things a little easier, we recommend making a list of pertinent questions to ask before making any final decisions about a detox center, such as:
Do you offer medication-assisted treatment services?
Do you provide counseling during detox?
Is your staff trained and licensed?
What types of insurance do you take?
Is there an aftercare program I can easily transition to?
Addiction Recovery Begins With Detox
If you or a loved one is struggling against a
substance use disorder
but ready to take the first steps toward a brighter, sober tomorrow, Delphi Behavioral Health Group can help you get on the road to addiction recovery and get your life back.
Quitting an addiction is never easy, but it is always possible, especially when you start with an effective medical detox. Getting clean and in the right state of mind before moving on to ongoing care can make all the difference in increasing your chances of having a successful recovery and maintaining your sobriety in the long-term. Call 844-605-0706 now to speak with one of our admissions specialists and get the ball rolling on finding the treatment program that's right for you or your loved one. Our compassionate, professional staff members are available 24/7 to provide treatment options, verify insurance, and answer any questions you might have. You can also contact us online for more information.