If you have tried everything you can think of to reach a loved one who struggles with substance abuse, then you might be at the point where you need to consider having an intervention. This meeting can be a real turning point and could mean the difference between life and death for the person who's battling addiction.
Interventions are also second chances for the ones concerned about the individual who needs help. They, too, must start their healing process, as addiction takes its toll not only on the individual who is using but also everyone around that person. An intervention can aid in the recovery and treatment process if done correctly.
Delphi Behavioral Health Group offers intervention services that can help you get your loved one on the path to recovery as soon as possible. We know that every minute counts in getting someone to stop substance abuse, and we also know how tough it can be to get someone to agree to take that first step. Here's an overview of what you can expect when we guide you through an intervention.

Pre-Intervention
Individuals who reach out to initiate an intervention with a loved one will speak with a certified interventionist who will talk with the friends, family, or colleagues that will be a part of the intervention. The interventionist will meet with you and ask questions in order to get an assessment of the situation. These questions help the interventionist determine if an intervention is appropriate.
If an intervention is necessary, then the interventionist will meet with the initial contact person to discuss the history of the individual who needs help and any relevant circumstances that have led the initial contact person to take this action.

This is also the point where the interventionist and the point of contact will decide which individuals will participate in the intervention. There is no set number of participants for an intervention team. However, a rule of thumb is to have the most concentrated and focused group possible at the intervention meeting. For example, if several people plan to say the same or similar thing, it would be best to have only one person speak at the intervention to express that particular concern.
Details such as when and where the intervention meeting will take place will also be worked out. The pre-intervention meeting can be held in person or during a phone or video conference call.

Family Meeting
A family meeting is held before the actual intervention takes place. During this meeting, which can also take place in-person or remotely, an interventionist will speak with the participants about their concerns and other matters they want to address.
During this time, participants will want to give examples of how troublesome or destructive behaviors have affected the addicted individual and others. These examples will be discussed with the target person at the intervention meeting.
This is the time to be honest. It is not unusual to find that there are resentment and pent-up feelings that surface once intervention participants share how they feel. This is normal and part of the healing process for people who have been living with a person in active addiction. The interventionist may recommend that participants write letters to help them express their feelings and concerns clearly. Effectively describing the emotional pain that has come about as a result of the individual's substance use can motivate the person to change and even accept a plan to get them professional help.
Any feelings and issues that arise during this meeting must be addressed among the group first before approaching the person who needs help. You also might want to discuss what happens if the target person becomes defensive or threatens to shut down the process. Having a strategy beforehand can help everyone prepare for these events and have an effective response to them should they happen.
Also, during this meeting, the interventionist can work with the family (or friends, colleagues, etc.) on a prearranged treatment plan that outlines the required steps, goals, and guidance to recovery. This will be presented to the individual at the intervention meeting. It also might be necessary to detail in no uncertain terms what each person will do if the person in active addiction will not accept treatment.

Prep Work (Rehearsal)
Preparation work is the rehearsal part of the process. It helps to ensure that everyone is on the same page and that the intervention meeting stays on track. Rehearsing beforehand also helps ensure that the meeting's tone remains formal and civil.
Most prep work can take place via virtual connection or over the phone, but if an in-person rehearsal is required at a specific location, all participants will be responsible for covering the costs of their travel to the rehearsal site and intervention meeting site. In some cases, this could be the same location.
Once everyone has arrived for rehearsal and settled in, each participant will receive an assigned role. The interventionist will help determine what each person's role is and create a script that should be followed by all participants as outlined. It is very important that every person knows their assigned role and sticks to the script, no matter what.
Agreeing to maintain these roles throughout the meeting will ensure that the intervention goes as planned. Interventions are fragile matters, so it is best to establish that only the interventionist is allowed to go off-script.

Intervention
The actual intervention is usually held in-person with all members of the intervention team present along with the person who needs help and the interventionist who is conducting the meeting. This is the time for everyone to express their concerns to the person about their substance use, their health and well-being, and their future. Each person will take turns talking to the individual and will have their say, but must stick to the pre-determined script.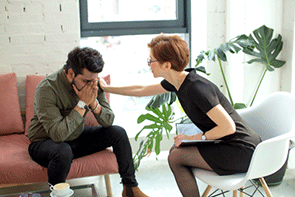 Delphi understands that an intervention can be sensitive in nature and tense. The exchange can still feel overwhelming and uncomfortable, even after rehearsal.  Keep in mind that the interventionist is there every step of the way to support the family and other concerned loved ones as well.
This is your time to put everything on the table as well as offer solutions and clarity as to what should be done next should the person either decide to get help or not get help.

We can help make this process much easier to see through because we understand what's at stake and why this meeting needs to happen. We will help anyone who reaches out to help someone who's struggling with a substance use disorder. We can help adolescents who have an affected parent and counsel both parties.
Travel
Travel is a key part of having a successful intervention, and organizing travel arrangements can be tricky because of the number of schedules that have to gel to make the meeting happen. However, you won't have to worry about that as an interventionist will facilitate travel arrangements for all parties involved.
The interventionist will help organize arrangements for everyone's transportation to the rehearsal and intervention site(s), even for the person at the center of the intervention. He or she can accompany the family to the rehearsal session and intervention meeting and can drive to the sites where the rehearsal and intervention take place.
However, coverage of all transportation costs to and from the intervention is the responsibility of each person. Delphi does not assume responsibility for travel costs.
A few days before the intervention takes place, the interventionist will meet with the necessary people and help organize how to get them to the agreed-upon location a few days before the intervention starts. He or she also will offer the target person a way to be escorted to treatment. This ensures the person who is the focus will be in attendance.
An intervention can be just what you need to help someone decide to leave substance abuse behind. You'll never know what that could mean to you or your loved one unless you try. We can help you pursue this option if you are feeling ready to start this process for your loved one and for you. Give us a call to let us know how we can help.