Most people who have parents or relatives with a substance use disorder know that addiction runs in their families. Some have known it for most of their adult lives. Some may use that knowledge to explain why they can't control their drinking of alcohol or misusing drugs. There are others who may not know that there is a family history of addiction or where it originates.
Addiction is a chronic, complex disease of the brain that affects the reward center. The American Psychiatric Association states that people with addiction are intensely focused on using certain substances, specific substances, like drugs or alcohol, often taking it to the level of overcoming their lives, and keep using it even when it causes problems. 
It also is a relapsing disease with a relapse rate between 40 to 60 percent, according to the National Institute on Drug Abuse (NIDA). In fact, NIDA indicates that "elapse rates for addiction resemble those of other chronic diseases such as diabetes, hypertension, and asthma."
You may want to know how addiction runs in your family and how you can break the pattern. We will explore these questions below.
How Addiction Runs In The Family
You may have facial features that resemble those of your parents, grandparents, and other relatives. These features are part of your body's "road map" or its DNA. Your DNA is composed of genes, which are short parts of your DNA. Your inherited genes can increase your chance of becoming addicted to alcohol or drugs. 
One study indicates that "family, adoption, and twin studies reveal that an individual's risk tends to be proportional to the degree of genetic relationship to an addicted relative." In other words, the closer a relative is to you, the higher the chance of addiction.
An article from Psychology Today notes that "estimated that approximately 40 to 60 percent of the risk for developing an Alcohol Use Disorder can be accounted for by genetic factors." And that the percent can be as high as "60 to 80 percent for other substances, such as nicotine or cocaine."
Researchers have not found one specific gene that indicates that a person will be predisposed to addiction. Instead, family genes, environment, and parents influence if addiction will develop. The people in your life who are closest to you have a strong influence on you and what you do, think, and feel. If your parents or relatives are heavy drinkers or have used drugs, it is possible that you may think that it is OK to do the same.
How Family Genes Fit Into Addiction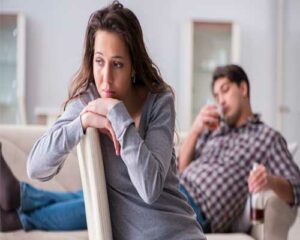 Our genes contain DNA, and when someone uses drugs, it can "mark" their DNA, or remodel it, at the cellular level, and some researchers think maybe even at the whole organism level. Each cell in the human body contains the same genetic information. Environmental factors are thought to play a role in the cells. 
It is possible that when a person misuses alcohol or drugs, the DNA in the cells is affected and can be passed onto children. The thought is that a person's health is determined by their genes and the environment they live in. To state it plainly, family genes and family environment play parts in who and how a person might struggle with addiction.
However, that does not mean you should participate in misusing substances or believe that because addiction runs in your family that it's OK for you to misuse substances. You can break the pattern of addiction or at least change it.
How To Change The Pattern Of Addiction
If you were raised in a household with a parent or parents who misused substances, you might find yourself accepting that addiction is a family trait that you can't change. You may have been the child who was the one taking care of your parents or siblings. Perhaps you even consumed alcohol to smooth the edges of a turbulent home. You may not know it, but in the back of your mind, you may be viewing yourself as a victim of substance use.
You can change how you think and act in regard to substance use and addiction and make your own choices.
Limit your consumption of alcohol at celebrations. Stick to one or two glasses of wine or one cocktail. Set limits for yourself about drinking alcohol, such as determining when and how much you will drink, and stick to it. Don't succumb to pressure from family or friends when attending gatherings where alcohol is served.
If drug use is known in your family background, talk with your doctor about alternatives to opioids if you need strong pain relief. Keep your doctors informed about your family history of substance use, including drugs and alcohol. Each physician needs to know about it, so you can work with them on finding other options.
Find local meetings for Al-Anon or Nar-Anon, which are support groups for people with family members with substance use disorders. Listen and share stories about addiction in families, and ask for guidance and support. There is much to learn from others and they from you.
Determine now if you want to follow the same path to addiction as those closest to you. If you feel that alcohol use disorder or substance use disorder has wreaked havoc in your family life, the decision to not misuse alcohol or drugs might be an easy one, or not.
One Step At A Time
Addiction is also known as substance use disorder. Many people think they are prone to addiction because it runs in the family. You may think there is nothing you can do to break the pattern of family addiction or that as long as it runs in the family, it's OK to misuse alcohol or drugs also. You may, in fact, be using your family addiction as an excuse to keep drinking or using drugs.
You are the one person in your family who can change the pattern of addiction by making informed, smart choices. You can ask for guidance and support when you need it and find help online, in a chat, over the phone, or in person. Delphi Behavioral Health Group offers all of these ways to reach out and communicate with addiction professionals. 
As a long-standing, respected treatment organization, our services are provided around the country by licensed medical and mental health professionals. The treatment programs provided are aimed at your unique needs and change as you evolve in therapy.
It may seem daunting to break the family pattern of addiction. You may be feeling helpless and hopeless. You may have become addicted to substances yourself. However, there is hope, and you can change the family course toward addiction with strong, smart, and informed choices.