Xanax is a depressant drug used to treat anxiety and other panic disorders. Despite its wide range of use and success, it can be an extremely deadly drug when abused. Xanax abuse can lead to tolerance, dependence, and addiction. If you've been prescribed the medication or discussed it with your primary care physician, it's important to ask questions and know what you're going to put into your body.
One of the first things you should know about the benzodiazepine drug is that it doesn't affect everyone the same. While you may know someone who's benefitted from its effects, it might affect you differently.
How Xanax affects you will depend on the following factors:
Dosage
Metabolism
Age
Weight
Mental state at the time of use
If it's your first time using the anti-anxiety medication, knowing the side effects and potential interactions before use could save your life. Continue reading if you'd like to learn more about Xanax and some of the most frequently asked questions regarding the medication.
What are the Effects of Recreational Xanax Use?
Those who use Xanax recreationally or without a prescription describe its effects as calming or sedating. Unlike other drugs such as cocaine that produce a high or euphoric feeling, Xanax users mention that they feel more tired, quiet, and relaxed after using. The feelings are often intense and can lead to passing out and falling asleep for several hours.
Others who use the drug without their doctor's supervision report blacking out or memory loss. It's common to lose memory of what happened to them for several hours. Higher doses of Xanax will lead to more potent effects.
What are the Effects of Xanax Treating Anxiety or Panic Disorders?
If you use Xanax as it's intended, you'll feel normal after your first dose. Doctors commonly use the medication to treat panic disorders and anxiety, and the sedating effects will alleviate symptoms associated with anxiety and ease your body's response to stress.
What are the Effects of Xanax When Drinking Alcohol?
Taking Xanax and alcohol together can be a deadly combo, and there isn't a single dose that's considered safe. Alcohol increases the effects of Xanax and will slow down how fast your body clears both drugs from the system. If you consume the medication and then drink alcohol, you are likely to experience prolonged memory loss and lethargy.
You must avoid using both substances together. Since both are depressants, they can lead to slowed breathing and other deadly side effects, which include:
Extreme drowsiness
Difficulty breathing
Confusion
Seizures
What are the Effects of Xanas With Other Drugs or Medication?
You should always speak with your doctor before combining drugs, and you should always avoid combining Xanax with other drugs due to the potential interactions. Xanax interacts with several medications, including the following:
Antibiotics
Antifungals
Oral contraceptives
Heartburn drugs
Antidepressants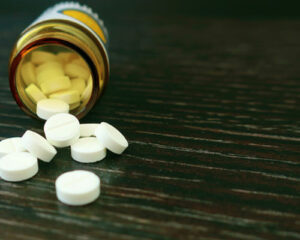 The above-mentioned drugs can prevent the pathway responsible for eliminating Xanax from your body from functioning normally. Over an extended period, it will cause a toxic buildup of the drug in your system, which could eventually lead to an overdose.
Speak with your pharmacist or primary care physician about the medications you're currently taking to ensure you won't have an adverse reaction. They will assess the risks and determine if you're safe to take Xanax.
You should also avoid using Xanax with other drugs, even over-the-counter (OTC) medications that cause drowsiness, slow your breathing, or cause extreme lethargy. The compounded effects when using these drugs together can be dangerous or put you at risk of death.
What Shouldn't You Feel When Using Xanax?
If used as prescribed, the effects of the drug should be mild but noticeable. If you notice Xanax is causing a significant impact, you must immediately seek emergency medical addiction. The adverse symptoms you should look out for when using Xanax include:
Confusion
Fainting
Extreme drowsiness
Muscle weakness
Loss of balance
Feeling lightheaded
If you notice any signs of an allergic reaction, you should also seek emergency medical attention. Signs may include swelling of the lips, face, throat, or tongue. You could also experience difficulty breathing.
Additionally, if you experience signs of withdrawal, you must contact your doctor immediately. Since you can develop an addiction to the drug, you might also experience withdrawal symptoms if you miss a dose or stop abruptly.
Xanax withdrawal can be serious, look for the following:
Confusion
Thoughts of suicide or self-harm
Confusion
Hostility
Depressed mood
Racing thoughts
Hallucinations
Uncontrolled muscle movements
Seizures
Suicide Prevention
If you or someone you know is at immediate risk of self-harm or hurting others, you must immediately call 911. If you believe there's an emergency, time is of the essence. If you've heard someone talk about suicide, consider getting help from a crisis or suicide prevention hotline. Try the National Suicide Prevention Lifeline at 800-273-8255.
How Will the Change of Dose Affect You?
The doses of Xanax available in milligrams include:
The effects of Xanax will become more noticeable as the dose increases. Doctors will recommend a first-time user to start with the lowest possible dose. Until you're familiar with the drugs' effects, you should take less and build up to a more substantial dose.
Extreme doses of Xanax can lead to fatalities – this can be said for anyone. Even if you're an experienced user, a high dose may lead to death. You should never take more than what your doctor prescribes.
When taken in high doses, Xanax can lead to a complication known as the "Rambo effect." The unusual side effect occurs when a Xanax user acts out uncharacteristically. It could include theft, promiscuity, or aggression. It's unclear why this happens, and you can't predict if it'll happen to you.
How Long Before Xanax Takes Effect?
Xanax is supposed to be taken orally and will be absorbed quickly into the bloodstream. Some users report experiencing the first effects in as little as five or ten minutes after taking the pill. Most will notice the effects within an hour.
This is one of the reasons Xanax is so effective for treating panic and anxiety because the peak impact dose comes quickly. Most will experience this within one to two hours after their dose.
How Long Do The Effects Last?
The effects are brief, and most will experience the most substantial impacts for two to four hours. However, lingering effects can stretch out for several more hours. How long it takes to affect you will depend on the following factors:
Age
Weight and metabolism
Other medications you're currently taking