Young adults and adolescents are some of the most at-risk population for drug and alcohol use. According to the National Survey on Drug Use and Health (NSDUH) in 2016, one in seven Americans between the ages of 18 and 25 needed professional and specialized treatment for drug and/or alcohol abuse or addiction. 
Going to college can present new pressures and freedoms that can encourage drug and alcohol use. There are specialized drug rehab programs that provide addiction treatment services while supporting a student's ability to remain in school. These programs may be inpatient, which include on-site schooling or options to attend classes or outpatient, where students attend both school and treatment sessions. 
Many college campuses provide recovery support and housing options, such as sober dorms. Sobriety can be encouraged through student-based and focused support groups. 
There are many resources for college students to support schooling, treatment, and recovery. You can still succeed in school while going through rehab.
Drug Use Among College Students
National surveys conducted in 2014 indicate that about a third of full-time college students, between the ages of 18 and 22, binge drank in the month leading up to the survey, while one out of every five used an illicit drug. 
The most commonly used illicit drug among college students is marijuana, followed by:
Hallucinogens
Prescription pain relievers
Cocaine
Stimulants
Inhalants
Methamphetamine
Heroin
Additional reports indicate that as many as a third of all college students battle a substance use disorder. Close to 70 percent of college students studied who reported illicit drug use at some point also indicated at least one negative consequences as a result. Low grades, legal troubles, financial difficulties, social issues, and mental and physical health concerns can all be side effects of drug and alcohol use. 
Alcohol use is higher among college students than among other young adults who are not in college, but illicit drug use is higher among those who are not in college, according to the 2017 Monitoring the Future (MTF) survey.
Alcohol is often part of college culture. More colleges are looking to offer treatment, recovery support, preventative efforts, and sober events to decrease abuse and addiction rates among students.
Treatment Options While in School
Students who wish to stay in school and attend drug rehab at the same time have options. It is possible to balance both with programs that are set up to support students. These programs may be either inpatient or outpatient. 
With an inpatient drug rehab program, you may be able to attend classes that are offered at the treatment facility. Programs may offer a variety of schooling options and be able to provide a structured time and schedule that can accommodate schooling.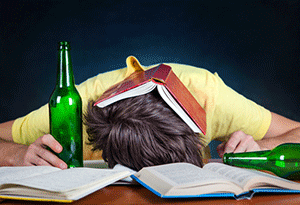 Inpatient drug rehab is highly structured and provides around-the-clock support for addiction. These rehab programs may also be located close to college campuses and allow students to attend classes off-site when needed.
Outpatient drug rehab programs offer more flexibility and allow students to schedule therapy, counseling, and support group meetings around their classes. These programs are optimal for students who have a high level of support and a lower level of physical drug dependency. 
There are also varying levels of outpatient drug treatment programs, some of which are more structured and comprehensive than others. 
It is important to select a program that will work best for you personally and support your treatment needs. 
Treatment programs are often supported through the school directly. 
They can help students balance both classwork and drug rehab simultaneously.
Recovery Support for College Students
One of the biggest things that can help you to stay in school while remaining sober, and even while going through drug rehab, is the level of support you receive. Living arrangements can be a big part of this. 
It is much easier to work through college life and balance drug rehab when you are surrounded by others who have the same goals and intentions. Sober dorms can help with this. 
A sober dorm provides a drug- and alcohol-free living space where students can thrive and still be a part of college life. Many of these programs require students to have been sober for at least 90 days, the Washington Post reports, and to pass a screening process to ensure that the fit will be good. 
A sober dorm can provide a healthy community of other college students who can provide ongoing support in recovery while helping to balance college life. Sober dorms can also be year-round, which can allow you to attend classes and school at your own pace. You can then maintain your course load with reduced pressure and time constraints.
There are nearly 200 recovery programs on college campuses throughout the United States. These programs often include:
Counseling services for both mental health and substance abuse
Behavioral therapies
Addiction support group meetings and/or 12-step programs
Peer-to-peer support and mentorship
Sober social activities and programs
Gaining support for recovery, especially from peers, while attending school can greatly support abstinence and help to minimize relapse. Students in school can keep up with classes, engage in college activities and be part of college life while remaining sober. The support and encouragement of others who understand these specific pressures can be incredibly important.