Substitutes for heroin are used during medication-assisted treatment (MAT) to wean people off heroin.
Substitute medications include methadone, buprenorphine, and naltrexone. They are very effective at helping people to stop taking heroin safely since they reduce or eliminate withdrawal symptoms and cravings.
Heroin Use
In July 2015, the U.S. Centers for Disease Control and Prevention (CDC) reported that heroin use was up in the United States for both women and men. This was true across all socioeconomic levels and most ages.
Substitutes for Heroin
The Better Health Channel reports that medication can provide much-needed support for people with addiction to heroin and other opioids. Some of the common medications used to treat heroin addiction are:
Buprenorphine. As described by the National Institute on Drug Abuse (NIDA), this medication controls a person's craving for heroin without making them feel high after use. It also does not have the same side effects as opioids. Buprenorphine is available on its own and in a blend that also contains naloxone. The FDA approved this medication in 2012, which made it easier for doctors to prescribe it so patients would not need to visit a specialized clinic to receive it.
Naltrexone. This medication does not produce dependency and it blocks the actions of opioids. That means patients do not experience cravings for the substance.
The FDA approved a concentrated version of it that is injected once per month, called Vivitrol. This is meant to make it easier for people to comply with treatment. Naltrexone is not known to control the symptoms of withdrawal as effectively as other methods.
Methadone. Used since the 1960s, NIDA states that methadone can work well for patients who do not react well to other substitutes for heroin. It must be taken daily and can only be accessed in special facilities. It is taken by mouth and prevents symptoms of withdrawal.
When to Use a Substitute
The Substance Abuse and Mental Health Services Administration (SAMHSA) says that MAT can be helpful for people with opioid disorders because it decreases the need for inpatient detox, reduces cravings, and lessens withdrawal symptoms.
The goals of MAT are to:
Goals of MAT
 Diminish the use of unlawful opioids as well as criminal activity that goes along with illicit drug use
 Help women improve their likelihood of healthy birth if they recover from substance use disorders during pregnancy
 Assist patients in their ability to get and keep a job
 Improve patient outcomes
 Improve a patient's ability to stay in treatment
Using a heroin substitute may decrease the likelihood that a patient will contract HIV/AIDS or other diseases such as hepatitis C because they are no longer using heroin and possibly sharing needles with infected individuals. MAT can reduce a person's likelihood of relapsing.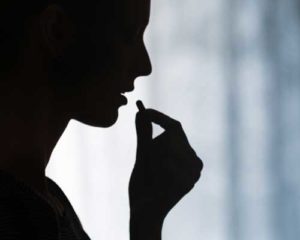 MAT is meant to be used along with other strategies that can help people recover from heroin use. Per federal law, people who receive MAT must also get counseling. This can consist of a group or individual therapy. They also receive employment, educational, vocational, and other treatment services that have the ultimate goal of helping them live productive lives.
SAMHSA mentions that heroin substitutes are often misunderstood, and they are not used enough.
Some people still believe that using a heroin substitute replaces heroin with an equivalent drug. This is not the case.
Should Some People Avoid Substitutes?
Generally speaking, if you need help to quit heroin, it is a good idea to incorporate MAT into your treatment. It is vital to weigh the side effects of each heroin substitute to see whether there is a type of substitute you should avoid.
Each heroin substitute has its disadvantages, interactions, and side effects.
Methadone: Some people experience adverse side effects because of methadone. Changing your dose can help you avoid these.
People who drink alcohol should not take methadone, as it can intensify side effects and can even be fatal. Methadone should not be used in patients who take anti-epilepsy pills such as Dilantin or sleeping pills.
This medication can cause feelings of withdrawal if the dose is too low. Methadone also causes dry mouth, which can lead to tooth decay.
Naltrexone: This medication is known to be less effective than methadone. Better Health Channel says that naltrexone is expensive, and does not address cravings for heroin. It only truly works if a person is committed to quitting the drug for good.
It is available in combination with buprenorphine. This combination is sublingual, meaning it is placed under the tongue until it completely dissolves.
Buprenorphine: Buprenorphine might be better for some patients since it can be taken at home. Methadone usually requires daily visits to a clinic.
Buprenorphine is known to be as effective in combatting heroin withdrawal symptoms as methadone. It is available in combination with naloxone (which acts as an abuse-deterrent) in Suboxone.
Though it is not a heroin substitute, naloxone can save lives when used in someone who shows signs of an opioid overdose. One advantage of naloxone is that it can be used in pregnant women in limited amounts if a doctor is supervising its use.
Naloxone can trigger symptoms of withdrawal if a person attempts to abuse a heroin substitute.
Part of Comprehensive Treatment
Heroin substitutes can help reduce heroin use in some patients. MedlinePlus states that MAT is only one component of treatment for heroin addiction. It is essential that people also receive other care, such as:
Individual therapy allows you to learn new skills and discuss concerns
Family therapy enables you to revitalize relationships you may have neglected because of drug use
Group therapy can make you aware that you are not the only one who is fighting addiction or substance abuse
Treatment also often involves referrals to organizations that can help you find work or even housing. Counselors can assist you in finding additional resources, such as HIV/AIDS testing, faith-based support groups, and other 12-step groups.
Such referrals can also be useful if it is found that you are not eligible to receive MAT. Before receiving MAT, you must see a doctor who will also require that you attend multiple checkups as you progress in treatment.
It may take a few weeks to figure out the exact dosage of methadone or buprenorphine that is right for you.