How the Florida Addiction Treatment Model Works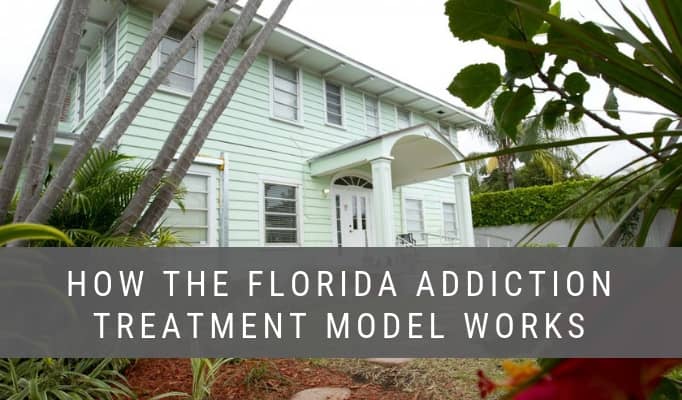 The Florida treatment model has raised the bar for addiction recovery, offering a regimen that optimizes one's chance for success in recovery by administering a stepped-up version of treatment that takes place during an extended period.
Florida has been frequently referred to as the Recovery Capital of the World and "an oasis of sobriety" because of the numerous addiction treatment centers and prominent recovery community that Florida has to offer.
The following will serve as a concise description of the Florida model of addiction treatment and break down the model into its basic components.
The Florida Treatment Model Begins with Detox
For the majority of individuals who have severe or long-term addictions, medical detoxification is necessary before one can move on to the treatment phase of recovery. If an individual were to try to detox and participate in treatment at the same time, the person would likely be too distracted by withdrawal to achieve maximum benefit from the therapies that are offered in post-detox treatment.
By detoxing during a designated period before treatment, an individual can overcome the physical components of dependency before receiving treatment for the mental and emotional components.
With the Florida treatment model, individuals will almost always begin recovery with a detox program, whether they're entering recovery voluntarily or involuntarily under the Baker and Marchman Acts. Just like in other high-quality medical detox programs, detox programs conducted according to the Florida model usually offer 24-hour medical supervision to ensure each client's safety and to minimize the discomfort that withdrawal and detoxification entail.
Additionally, Florida treatment facilities are often high-quality with various amenities, affording many individuals a degree of luxury while they detox from alcohol and drugs. In short, the purpose of a detox program at a Florida drug rehab is to optimize an individual's chance of success by making him or her as comfortable as possible while detoxing.
Inpatient and Residential Programs to Treat Addiction: The Florida Treatment Model
Although there are various outpatient programs that have proven effective for some clients, the Florida model of addiction recovery almost always involves inpatient treatment. At some facilities, inpatient treatment is known as residential treatment. Many Florida rehabs offer residential accommodations that afford clients amenities such as full kitchens, private bedrooms, laundry facilities, private lounge areas, and more. Many have favorably compared the residential accommodations of most Florida drug rehabs to luxury hotel suites or college dormitories. Many Florida rehabs also offer various treatments that individuals may not receive elsewhere.
In addition to the counseling and psychotherapy, group sessions, and psychoeducation that often serve as the basis of most recovery programming, facilities using the Florida treatment model often incorporate holistic treatments into their programs. These treatments include acupuncture, guided meditation, and massage therapy, which all encourage clients to relax as they work through alcohol or drug addiction.
Florida recovery centers also help clients to learn essential life skills that are vital to being an independent adult in society, including how to budget one's finances, shop for grocery and essential goods, cook, and perform in a job interview, among many others. One of the main goals of Florida recovery centers is to ensure each recovering client has the knowledge and skills necessary to prevent relapse and be a productive member of the community.
Aftercare Services and Florida's Recovery Community
Once an individual has completed a detox program and graduated from an inpatient residential program at a Florida drug rehab, they transition into the maintenance phase of recovery when they use aftercare services. Aftercare is an integral part of the Florida treatment model for several reasons. Research has found that most people in recovery who relapse had received either inadequate treatment or completed a program that wasn't long enough to meet their needs.
In other words, individuals are at a higher risk of relapse when they complete only short programs or treatments of low intensity. As such, the Florida treatment model begins with a high level of intensity in detox and inpatient programs before clients transition into aftercare. This allows them to continue to receive treatment while taking steps toward being more accountable and responsible for their sobriety. In effect, aftercare allows them to learn how to remain sober in society again, which is why the Florida model of treatment emphasizes aftercare.
Additionally, Florida has an extensive, active recovery community because of the large number of treatment facilities and individuals who travel to Florida for treatment. It's also common for people who aren't from Florida to remain in the state after treatment. They often find themselves part of a strong network of peers and helpful recovery resources.
Additionally, it's easier for individuals to network with others who are in recovery and, therefore, are understanding and supportive of what these individuals go through. Because having a strong support network is considered a vital part of recovery, and there are so many people in recovery completing treatment throughout Florida, the ever-present recovery community combined with the Florida treatment model's emphasis on aftercare contribute to the reputation that Florida has for being an oasis of sobriety.
Need Addiction Treatment? Call Delphi Now
While Florida remains one of the best places for people to go when they are seeking an effective addiction treatment center, there is a wide variety of facilities throughout the rest of the country and even the world as well. Florida rehabs have a lot to offer, but they may not be ideal for everyone.
If you or someone you love is battling an addiction or a substance abuse problem, or if you would like to learn more about the substance recovery process, Delphi Behavioral Health Group can help. Call us now at (844) 208-4761 for a free consultation and assessment with one of our experienced recovery specialists. Don't let the disease of addiction take your life away from you. Begin the journey toward freedom and health with just a single phone call.
Author
Sebastian Gonzalez